Image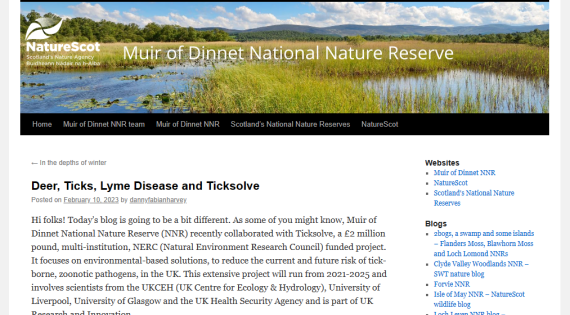 February 2023 - Deer, Ticks, Lyme Disease and Ticksolve
NatureScot posted a blog about TickSolve and the deer captures at the Muir of Dinnet Nature Reserve.
January 2023 - Deer trapping in Aberdeenshire
Early January 2023 has seen the intial deer capture and tracking take place across the Aberdeenshire study site.
Vounteers have been trained to set-up and closely monitor deer nets across key deer routes, as well as receiving training in how to correctly restrain a captured deer while it is checked for ticks and a tracking collar attached.
14 November 2022 - Problem Framing Workshop Wessex
On the 14th of November members from our TickSolve team met in Fordingbridge, Hampshire for a workshop with stakeholders in the Wessex region for the first local framing workshop of the NERC-funded TickSolve project. Wessex is one of our two key focal landscapes for TickSolve, being a key hotspot for Lyme Disease in the UK, with expanding woodland and high populations of deer that can amplify tick populations. Our aim was to gather perceptions of local stakeholders on ticks, deer and land management practices, and possible interventions that could reduce exposure to tick-borne diseases. 15 stakeholders kindly contributed their time and knowledge, drawn from diverse occupations or backgrounds as land owners, land managers, deer managers, foresters and game keepers.


The afternoon consisted of guided conversations between groups discussing different aspects of ticks and tick borne disease and how to manage spread and impacts. The stakeholders used post-it notes to identify key issues and prioritise concerns and feasible interventions and lively discussions followed.


The insights gained from the workshop will help inform the project risk guidance and intervention scenarios that we will test out using computer models of tick-borne disease transmission and how risks to humans vary across the landscape. A full report on the workshop and next steps will be released in the New Year, which will also see the second local framing workshop held in Aberdeenshire, the second focal landscape for TickSolve, as well as a workshop for national level stakeholders involved in health, landscape and biodiversity management.
If you would like to find out more about TickSolve, and contribute to the co-production of the research, tools and guidance, feel free to get in touch at the following email: info_ticksolve@ceh.ac.uk

2nd September 2022
The teams working in the Aberdeenshire and Wessex study sites have been working hard through the summer, with a particularly busy August as live rodent trapping has started, alongside trail camera rotations and seasonal tick sampling.

In Aberdeenshire the third round of rotations of camera traps for deer and other large mammals were carried out across 30 woodland sites and 5 open sites in July. In August, the height of the cameras was lowered across all sites to sample rodent activity. In parallel, live rodent trapping was carried out across 8 sites to estimate wood mouse, bank vole and shrew abundance in the sites. An additional rotation of cameras for rodent sampling in the second half of August.

Similar activity has been taking place across the Wessex study sites, with rodent trapping continuing over the next fortnight. The team have had several encounters with particularly fesity yellow-necked mice as well as large number of slugs that have developed a taste for the bait and hay found in the traps.


August 2022 - Pictures from the Period 2 Fieldwork
1st June 2022 - 'Wessex' Fieldwork - Initial camera trapping
The team working in the southern study area around the New Forest have spent the past couple of weeks collecting questing ticks at 30 woodlands and 15 adjacent open habitats to estimate tick density in the study area across different woodland sizes.
The team set up camera trails in the woodland sites and five adjacent open habitats to understand the wildlife host community in the study landscape.
These cameras are triggered by movement and take pictures of any animal passing in front of it, with the hope of capturing photos of large mammals (deer, livestock) as well as medium size mammals (e.g. foxes and badgers) but also small rodents and birds.
Getting all the cameras in place and collecting tick samples wrapped up on May 27th and the team are now back in the office, entering data obtained and preparing for the next camera rotation that will begin Monday 6th June.
Image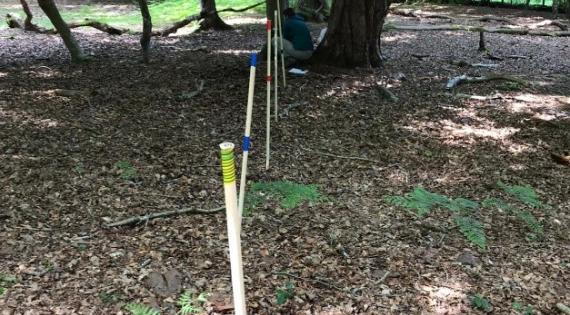 Image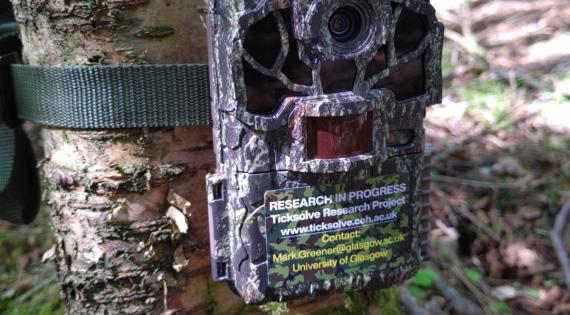 Image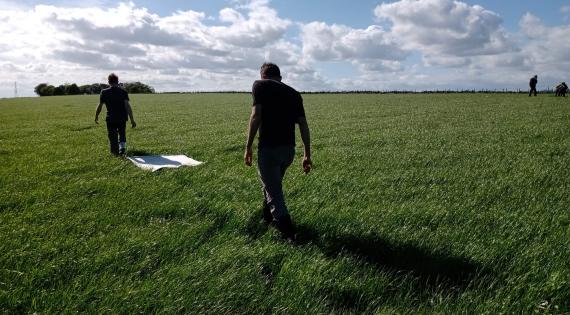 Image